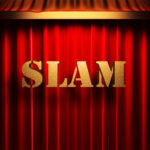 Break A Leg is getting ready to return with our One Act Slam.
POSTPONED TO: Monday, October 25, 2021, 7-9pm
The Unity Center of NYC, 213 West 58th Street between 7th Avenue & Broadway in Manhattan.  (Take the N/Q/R/W to 57th street or the 1/A/B/C/D to Columbus Circle.)
This is our yearly one act play competition featuring fully staged readings of new works, in which the audiences votes for your favorite!
Directors: Peter Burford, Valerie Adami-Juhlin
Here's a sneak peek:
---
Abuse From Another Life by Fran Handman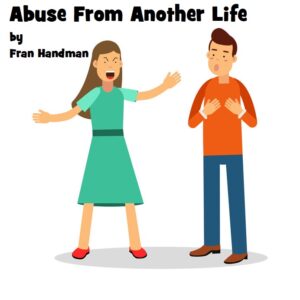 Prudence learns some fascinating news from her psychic.  Then she runs into Ernest. What happens next is nothing short of 'Abuse From A Past Life'.
Fran Handman, an award-winning writer has written many 10 minute plays presented by Samuel French, ARTC, Turnip Marathon, Turtle Shell Productions, MITF. Lyricist/bookwriter for ADDING MACHINE, the Musical, readings by Tru (New Voices), ARTC, MITF. PUCELANDIA, a family show: Turtle Shell Productions, Tru Honorable Mention. POLKA DOT DOOR –children's TV Show-Toronto. FIX & FOXI AGV Entertainment, Germany.  Dramatist's Guild, Writer's Guild of Canada, American Renaissance Theatre (ARTC). LPTW,  BMI lyricist /librettist workshop.  Franhand4@aol.com
---
Alban's Garden by Rich Espey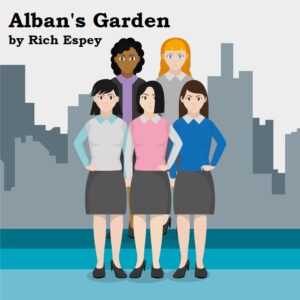 There's been a murder in Alban's Gardens. Laura wants answers about what happened to Sharon's husband.  Sharon wants a little compassion.  What happens when these neighbors, who are strangers, get together?
Rich Espey is a Baltimore playwright lucky enough to have had over 100 productions of his plays throughout the US. Learn more at www.richespey.com.
---
Baggage by James McLindon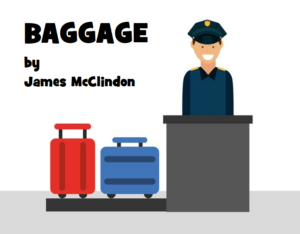 An international airline passenger loses his luggage … and maybe his mind.
James McLindon's plays have been produced or developed at the O'Neill, Lark, PlayPenn, hotINK Festival, Irish Repertory, CAP21, Samuel French Festival, Victory Gardens, New Repertory, Great Plains Theatre Conference, Seven Devils, and Ashland New Plays Festival,. They have been published by Dramatic Publishing and Smith & Kraus. He is a member of the Nylon Fusion Theatre Company and the Dramatists Guild.
---
Closing Doors by John Minigan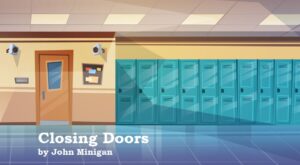 When fourth-grade teacher Sandra is called on the carpet by old friend and Assistant Principal Valerie for breaking protocol in an active shooter drill, they must decide how they can protect both their students and their friendship.
John Minigan is a Massachusetts Artist Fellow in Dramatic Writing and a 2020 New American Voices and 2019 Clauder Competition playwriting winner. Please visit johnminigan.com.
---
Metanoia by Paul McCormick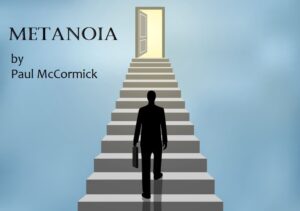 It's Judgment Day and Alex is not one to take bad news lying down and  is confident that the Founder can be cajoled and redemption can be secured. In the process self-conceit will give way to self-awareness.
About Paul McCormick:  After taking a playwrighting workshop on a lark following a thirty-five year career in the medical device industry, this 1976 college grad, with a degree in Economics, has found his second act.
---
Trick Me! By John McGoldrick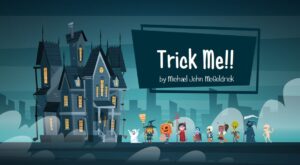 Joe really wants to be tricked on Halloween. Is that too much to ask? Even when Satan comes to take him to hell?
Michael John McGoldrick's plays have been finalists in competitions sponsored Trustus Theatre, Alleyway Theater and Playhouse on the Square. His other plays have received staged readings from New Jersey Repertory Company, The Monarch Theater, Jersey City Theater Center, Permafrost Theater Collective and others. He belongs to the American Renaissance Theater Company in Manhattan.
---
Dog Park by Scott Mullen
Anthony and Kelly meet at a dog, park and may have more in common than their Jack Russell Terriers.
---
Home by Scott Mullen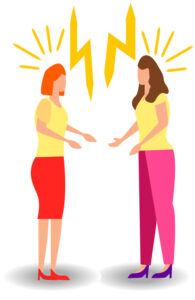 A woman tries to convince her mother-in-law to move in with her family even though they dislike each other.