Break A Leg is committed to developing new works, from conception to reading to full production.  This involves working directly with a playwright through a series of round table readings during which the playwright hears his or her material out loud, performed by BAL actors.  The reading is then followed by feedback and discussion.  This process continues until the play is ready to be put "on its feet" for a fully staged reading before an audience.  Plays in development are then considered for possible full production.
The Relativity Of Love: Albert Einstein and Mileva Marić 
On January 23, 2018 at the CUNY Graduate Center in Manhattan, Break A Leg Productions will present the very first performance-reading of a new play, 
The Relativity of Love: Albert Einstein and Mileva Marić
  by the widely recognized science historian and playwright David C. Cassidy.
Synopsis:
It's 1896 at the Polytechnic Institute in Zurich, Switzerland. The new school year is about to begin. A first-year student named Albert Einstein meets Mileva Marić, a courageous young Serbian woman who had already overcome many obstacles to women in science before arriving in Zurich — one of the few places in Europe admitting women to higher education– in order to study physics at the Polytechnic. Albert and Mileva soon fell in love and eventually married, a romance and marriage that spanned Albert's ascent from a beginning student to the top of his profession by the eve of World War I. But fate was unkind to the lovers, challenging their love and their careers, and bringing upon them both triumph and tragedy. This one-act play is based upon their letters, other documents, and recent biographies.
The Relativity of Love: Albert Einstein and Mileva Marić is part of of BAL's ongoing "The Art Of Science" series, which has entralled audiences with plays that depict both the complex concepts and real life human stories behind some of the world's greatest scientific minds and their discoveries.
The Relativity Of Love will mark the third occasion on which BAL has partnered with David C. Cassidy to bring one of his plays to the stage for the very first time.
Farm Hall
Previously, BAL showcased Farm Hall in several readings at the CUNY Graduate Center, before bringing it to full production as part of the 2014 Midtown International Theatre Festival where it enjoyed sold out performances and lively post-performance talkbacks.
Farm Hall tells the story of the prominent and Nobel prize-winning German nuclear scientists captured by the allies during World War II.
No No Nobel
BAL was also thrilled to work with Mr. Cassidy on No No Nobel, an insightful look at a number of members of the scientific community whose enormous contributions and discoveries went unrecognized by the Nobel committee, including Jocelyn Bell Burnell, Rosalind Franklin, Ralph Alfer, Lisa Meitner, and Dmitri Mendeleev.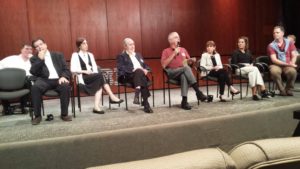 No No Nobel
 was performed twice at the CUNY Graduate Center and by special invitation at IBM headquarters in Yorktown Heights, New York.   David C. Cassidy participated in a lively discussion following the performance.