THE ULTIMATE "SLAM DUNK!"
On Saturday September 17th at 2:00pm, BAL held our
3rd Annual One-Act SLAM
and it was our most successful to date!!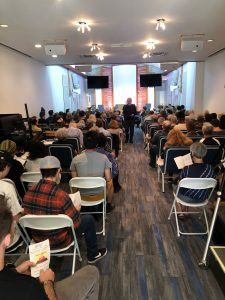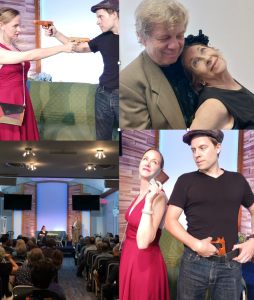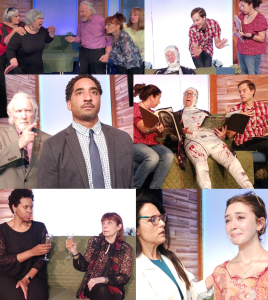 AND THE AUDIENCE FAVORITE WAS: 


"Person Of Interest" By Rich Docherty! 
THE CAST/CREATIVE:
Valerie Adami: Valerie Adami (Director) Valerie is delighted to be back in a theater. Her resume includes opera, musicals, small roles on NY Soaps and Voice-Overs. For over 30 years she was Director of the Weist-Barron School for Film & TV which included working as an Independent Casting Director. Currently Valerie is the Youth Agent for SW Artists Agency. For fun she teaches Audition and Commercial Technique (WB- Workshops.net) and directs – especially for BAL, 'Light Up The Sky', 'The Sherlock En- treaty', 'This Senseless Killing' and the 'One-Act Slam'. Thank you always my Angel husband Don for your love and guidance.

Teri Black*: Teri Black*(Claire) Theatre, Soaps,Voiceovers, etc. Film Credits include "Small Time Crooks" &"Easy Money".Member of AEA,SAG/AFTRA,NYWIFT, LPTW, EAG.This October (2022), Teri will be directing the World Premiere of play "Synchronic- ity"."As Always,Thanks Brian!"

Elianna Carvalho: Elianna Carvalho is a Hastings HS Junior who has performed in over 18 productions. She often works as Dance Captain and has choreographed sever- al shows. This fall Elianna will appear in "Something Rotten!" with Riverdale Rising Stars. She is thrilled to be working with Valerie Adami and Break A Leg Productions.

Michael Edmund: Michal Edmund: With BAL: Parody Tonight!; The Murder of Joyce Carol Oates; Naomi in the Living Room; Copenhagen. NY Theater: Over 60 plays in- cluding: Cat on a Hot Tin Roof; How I Learned to Drive; Our Town; 1776, Hay Fever; The Country Girl; Beyond Therapy, Balm in Gilead. Film: Turtle Hill Brooklyn, others. Monthly Podcast: Vintage Sand - A Film History Podcast.

Steven Peacock Jacoby: Steven is a born and raised NYC actor and in the SAG-AF- TRA & AEA. He trained at The Lee Strasberg Theatre Institute and has various profes- sional credits in theatre, film, commercial and print. Steven is proud to be a part of the BAL ONE ACT SLAM Festival.

Eric Kuzmuk: Eric Kuzmuk is seen acting in various venues around the city. His most recent performances have been in: Gaslight as Sergeant Rough, Quartet, Hedy Lamar and Frequency Hopping in which he played seven characters , An Evening of Chekhov, Light Up the sky, Forty Carats, Darwin in Malibu, It's Only a Play, Moon over Man- groves, Outward Bound, Not Now Darling, A Royal Mess, Moonlight and Magnolias, Wait Until Dark, and Murder on the Nile. A graduate of Williams College he studied act- ing at HB studios.
Matt Labotka*: Matt Labotka An alum of Chicago's Second City Conservatory and Mar- quette University, Mat is both classically trained and freshly comedic. Previous
credits credits include Henry in The King's Face, Albert in Relativity of Love (Break A Leg), File in The Rainmaker (East Lynne Theatre). Mat also hosts the delightfully comedic podcast, Grumble Goat. matlabotka.com Member AEA.
Diana LeBlanc*: Diana LeBlanc (Cleo) Diana studied dance and drama at the Universi- ty of California/Irvine before moving to New York to pursue theater. From New York, she performed throughout the U.S., Canada and Mexico with such shows as Annie Get Your Gun, No No Nanette, Anything Goes, Hit The Deck and Annie among others. Equity.
Mandy Murphy: Mandy is an actress/playwright based in NYC. She is a proud compa- ny member of New Ambassadors Theatre Co. & The Playground Experiment. She was most recently seen in NATC's Blurring Boundaries festival. Mandy's plays From A to Double D & Valer have been presented by SheNYC and Moxie Arts. www.mandymur- phyplaywright.com.
Mark Peters: In March Mark Peters played The Count in a new translation of Schnit- zler's La Ronde. NYC & regional: King Lear; DeGuiche — Cyrano; Sharky — The Sea- farer, Frank — The Country Girl; Vanya in Uncle Vanya; Doc in Come Back, Little Sheba (musical) opposite Donna McKechnie; Emile — South Pacific; Perón — Evita; Ahab — Moby- Dick.
Gloria Phillips: Gloria Phillips is an actress and voiceover artist that has performed on stage and screen. She can be seen in the upcoming film "Benji's Hour," recent film "Crown Vic," as well as Comedy Central's "Broad City" and HBO's "The Wire."
Monica Rey: Monica Rey is a singer/dancer/actor and playwright based in New York City. She studied acting at William Esper Studio and improv with the Magnet Theater, and is a regular player at Magnet, the PlayGround Experiment, and New Ambassadors Theatre Company. Monica lives to tell stories that break down barriers and celebrate transformation.
Eve Sorel: Eve Sorel has appeared in four countries and all media.
Jasmine Spiess*: Jasmine Spiess is a NYC-based playwright and actor. Recently, the 2022 Valdez Theatre Conference featured her full-length play about gun violence, "On Any Given Day in America…". Jasmine has many short plays produced and published, including her play, "Tree Hugger" with BAL Productions. Jasmine was featured as an actor in the winning BAL One Act Slam play last year, "Baggage". She is a proud mem- ber of the Dramatists Guild and Actors Equity. She wears many other hats and you can discover more here: www.jasminespiess.com/playwright
Cameron Taylor*: Cameron has worked here in film/tv/commercials/theatre. Born and bred in the South, I am a "steel magnolia"---and yes, I have done the play! See me in the AMAZON series GRAVESEND, Season 2, Episode 1,"On the Lam" , as Edna. AEA,SAG/AFTRA
Therese Trzcinski: Therese Trzcinski (Patricia) Wolf Trap and my studies with experi- mental groups such as Mabou Mines helped me get my first professional job in the Lon- don production of Liquid Theatre. Most recently, my National Snapple & E-trade Super Bowl commercials allowed me to leap to television & the Internet. Now, back to Theater I'm delighted to be part of the Break A Leg SLAM.
Elizabeth York: Elizabeth York is a long time BAL company and Literary Committee member. Favorite BAL roles include Janie in "Isn't It Romantic" and the Young Pupil in "The Lesson". Local/regional roles include "I Ought to Be In Pictures": Theater Barn and "Moon Over Mangroves": Hudson Guild. Also a therapist, she thanks BAL and her fami- ly.
Christopher Zou: Christopher Zou is an actor from Queens, NY. This past summer, he played Conrade in Much Ado About Nothing at the Shakespeare Theatre of New Jersey and Adam in the world premiere of It's a Small World (or The Robot Play) at Bristol Val- ley Theater. BFA: NYU Tisch Film.
THE PLAYS:
 A GREAT FALL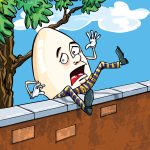 PLAYWRIGHT: CHRISTIAN MISSONAK
TAGLINE: When a man gives a detailed account of an accident in hopes to inspire change, his plans hit a hump when he realizes the reporters have other intentions with his story. 
BIO: Christian Missonak is a NYC-based playwright originally from Chicago, where he was a graduate of Columbia College and The Second City Conservatory.  Plays: Sheridan (Madlab Theatre), Save Ferris (Under the Gun Theatre), Cooperative (Metropolitan Playhouse). Upcoming: publication in The Best Men's Stage Monologues 2022 by Smith & Kraus Publishers. www.christianmissonak.com.
 BRAVE BLOOD
PLAYWRIGHT: RICH RUBIN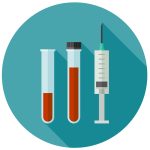 TAGLINE: The time, 1942; the place, Washington, D.C.When the American Red Cross decides to segregate the military's blood supply based on race, Dr. Charles R. Drew — the nation's foremost expert on blood banking — points out the illogic and stands up for what's right.
BIO: Rich Rubin's plays have been staged throughout the U.S., as well as in Europe, Asia, Australia, New Zealand, Canada and Mexico.  His full-length drama PICASSO IN PARIS was the winner of the 2020 Julie Harris Playwright Award. www.richrubinplaywright.com
GRAND PRIZE
PLAYWRIGHT: JASMINE SPIESS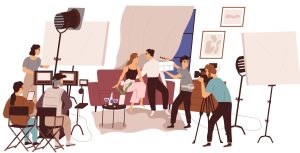 TAGLINE: Manny wins a reality TV show, but forgets the "Grand Prize".
BIO: Jasmine Spiess is a NYC-based playwright. Recently, the 2022 Valdez Theatre Conference featured her full-length play about gun violence, "On Any Given Day in America…". Jasmine has many short plays produced and published, including her play, "Tree Hugger" with BAL Productions. She also wears many hats as a performer and musician. www.jasminespiess.com/playwright
PERSON OF INTEREST
PLAYWRIGHT: RICH DOCHERTY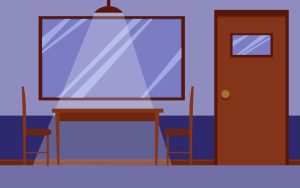 TAGLINE: In the interrogation room of a New York City police precinct, a stubborn senior citizen spars with a hard-nosed police detective who finds himself in a showdown of wills with the feisty female golden-ager.
BIO: Rich Docherty is the author of two novels, "Dead As Dutch" (2012) and "Night of the Century" (2022) and is currently working on his third. He also co-produced and wrote the script for the indie film comedy, "Dumping Lisa." 
SIX WEEKS
PLAYWRIGHT: JACOB MARX RICE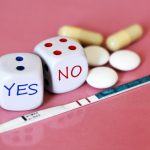 TAGLINE: Maddie has a plan. Being pregnant is not part of it.
BIO: Jacob's plays have been produced and developed in over a dozen cities on three continents at theaters including The Eugene O'Neill Theatre Center, The Finborough Theatre in London, Actors Theatre of Louisville, The Flea Theater, EST, and Atlantic Theatre Stage 2.
STAY GOLDEN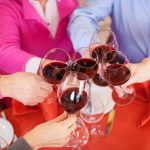 PLAYWRIGHT: JESSICA MOSS
TAGLINE: Cleo's friends have a plan for the future, and they're not about to let Cleo's husband stand in their way.
BIO:  https://newplayexchange.org/users/5369/jessica-moss
STRANGERS IN THE NIGHT
PLAYWRIGHT: JEFF DUNNE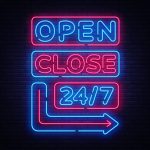 TAGLINE: When two strangers decide to retire to a nearby seedy motel for a few hours, they have the exact same thing in mind… Which turns out to be rather a surprise to both of them.
BIO: Jeff Dunne is an award-winning playwright, who began writing actively in 2017 and now has had about two thirds of his 175 scripts produced across three continents.  You can learn more about Jeff's works by visiting www.bearcreations.org.
THE LETTERS
PLAYWRIGHT: NALSEY TINBERG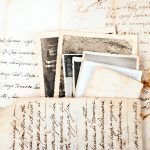 TAGLINE: Claire, arrogant widow of an accomplished Pulitzer Prize winning historian, meets her match in Denise, one of his former students.
BIO: Nalsey is the author of five full-length plays, and various short plays.  Full length plays: MISCONDUCT (Eugene O'Neill Theater  Center's 2015 National Playwrights Conference Semi-finalist; winner: Long Beach Playhouse New Works Festival 2015); CAKEWALK (Main Stage Production, Houston 2011-2012); BEARING WITNESS  (Stella Adler Theatre in Los Angeles, 1998) and MUSICAL CHAIRS (Stella Adler Theatre, 2004).
FREE Admission – Donations Accepted – General Seating – Ground floor theatre, restrooms one flight down, no elevator.