The Relativity of Love: Albert Einstein and Mileva Marić*
By David C. Cassidy
*Produced as part of Break A Leg's "In The Works" play development series.
January 23, 2018 at the CUNY Graduate Center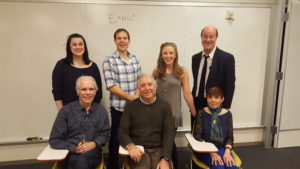 Directed by Kim T. Sharp
With: Bruce Barton*, Teri Black*, Jessica Eleanor Grant * Mat Labotka*, Kate G.McGrath*
*Member of Actors Equity Association
Of the performance David C. Cassidy writes: "My sincere thanks to everyone for a great job in bringing "Relativity" to life. I am very grateful for your support and encouragement.  Keep up the excellent work.' –  Best wishes, David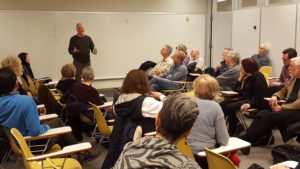 It's 1896 at the Polytechnic Institute in Zurich, Switzerland. The new school year is about to begin. A first-year student named Albert Einstein meets Mileva Marić, a courageous young Serbian woman who had already overcome many obstacles to women in science before arriving in Zurich — one of the few places in Europe admitting women to higher education– in order to study physics at the Polytechnic. Albert and Mileva soon fell in love and eventually married, a romance and marriage that spanned Albert's ascent from a beginning student to the top of his profession by the eve of World War I. But fate was unkind to the lovers, challenging their love and their careers, and bringing upon them both triumph and tragedy. This one-act play is based upon their letters, other documents, and recent biographies.
Click on photos to enlarge: